Hire a Ghostwriter to Write your Book | Top 5 best ways to do it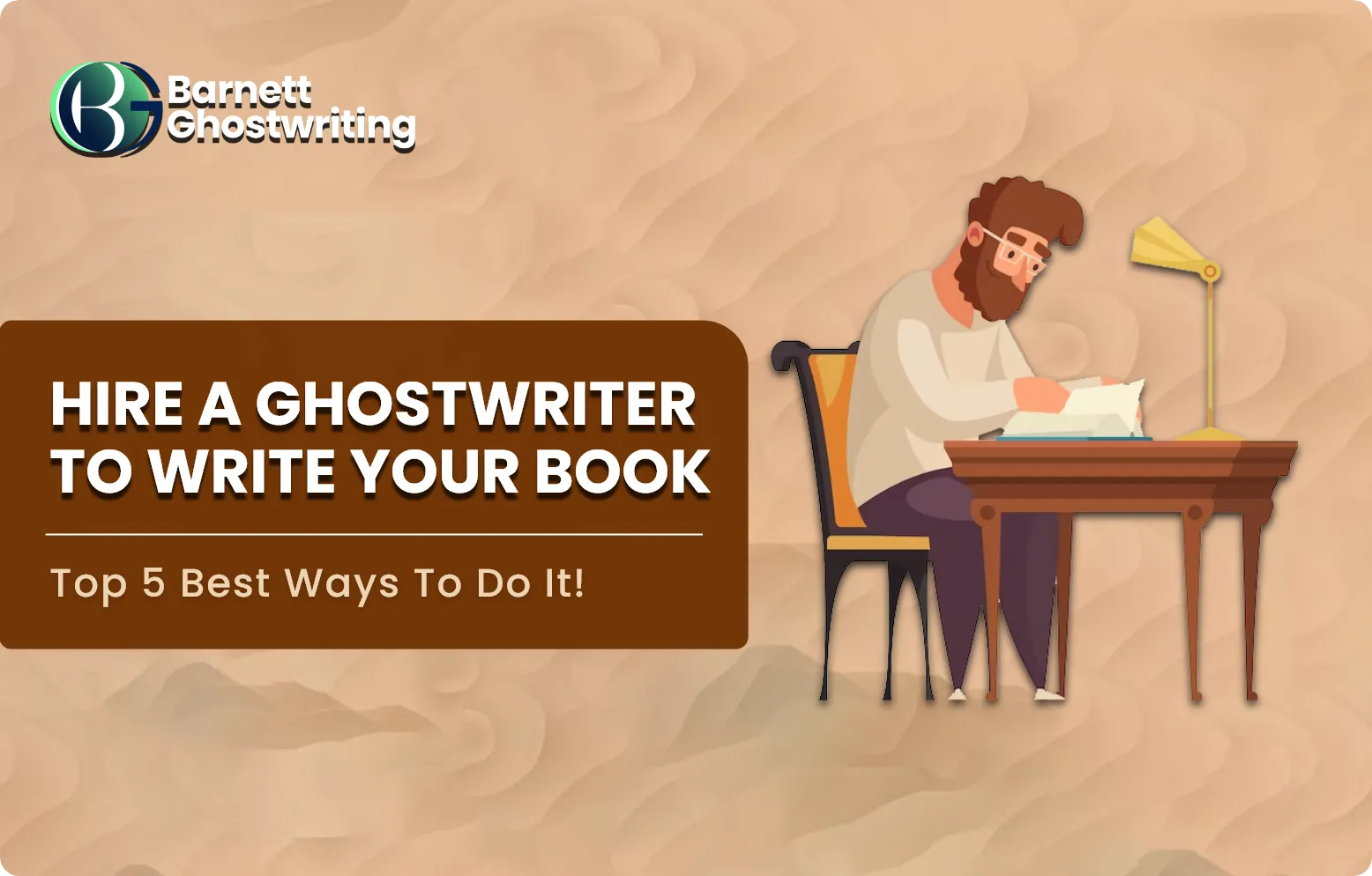 The most important step in creating a book is to first procure an idea for it. What category will it be "fiction" or "nonfiction"? Suppose you choose a fiction book, now you have a bunch of genres contained within that main category of fiction, will it be a fantasy story of a hero fighting against dragons and saving the day? Or will it be a complex and well-thought-out nuanced sci-fi epic containing a wide variety of characters each with their own complex motivations and ideas? In this blog, we will discuss 5 best ways to hire a Ghostwriter to write your book.
1. Initial stages of writing your book
Whatever genre you choose you then need to figure out why you're writing this story to begin with, what resonates with you? What compels you to create this story, these are important questions to answer and will form the basis for planning your book, we don't truly understand our motivations and we need to conduct deep introspection to figure out what it is that we want from what we're doing George Orwell author of 1984 once said "When I sit down to write a book, I do not say to myself, 'I'm going to produce a work of art'.
You might be interested in the guide to how to start writing a book.
I write because there is some lie that I want to expose, some fact to which I want to draw attention." Over here this exemplifies the ideals of a writer, the compulsion to create something. Not all ideas become works of art or best sellers and what have you, some ideas are just not as interesting to mainstream audiences as others. There's nothing wrong with this, it doesn't imply that you lack a sort of intellectual insight, it just means that your ideas did not resonate with a large enough audience.
2. The genesis of a best seller
A best seller is a book that sells exceptionally well due to its mainstream appeal, a book such as this is often talked about and beloved by many, however, it might not necessarily be a book that's received well by critics.
This is the sort of book that audiences enjoy the most due to its pacing, structure, characterization, and easy-to-follow plot. A good example of this would be most of Dan Brown's novels such as The Da Vinci Code, this novel sold about 80 million copies worldwide (Heller, 2016), it's had a mixed reception with critics due to its historical inaccuracies however it sold really well due to its engaging plot, it's pacing which was moved at a breakneck speed, as well as its likable and entertaining characters. The point of the above paragraph is that you don't really need to be Shakespeare to be a best-selling author, but what you do need is a book written in a style that resonates with audiences.
3. Why writing is not a ubiquitous skill
Writing is a difficult craft to master. Many authors spend their entire lives honing it and often still make mistakes or come up short. As with many other skills, writing tends to have a talent component to it.
This implies that some are just born to be talented writers whereas others aren't.  A talented writer can create a work of storytelling that accomplishes whatever objective the writer has decided to accomplish.
This sort of understanding of how to create a compelling narrative, a pace that is neither too fast nor too slow, characters that win the hearts and minds of readers, and a conclusion that feels satisfying to audiences but depending on if the writer wishes to create a full series of books, not too satisfying.  The problem is there are many out there who wish to be writers, but none succeed, and this is usually why you might want to hire a ghostwriter to write your book. Not everyone has a talent for writing nor the skill or time to hone their craft. Many people who often have great ideas for writing a novel tend to be older. With much more life experience but at the same time they lack the time to invest in writing.
Also, read the Beginners Guide to Writing a Novel.
4. Okay so now what?
If you lack the skill/talent/time to write your book, you need to consider investing in a ghostwriter. These are professional writers hired to write your book. However, they do not get any royalties nor do they get to put their name on your book. The book would be yours and you would hold the copyrights and get all the royalties from it. These professional writers are simply paid for a service to build your story with your vision.
5. What makes a ghostwriter good?
A good ghostwriter can form a powerful plot, have expertise and experience, and add depth to your ideas. As well as display exceptional professionalism. Good ghostwriters also have vast experience working with bestselling authors and businesses. They often display these credentials under their name and charge a premium. This can make hiring an individual skilled ghostwriter after searching for them through networking or by conducting online searches a rather expensive affair. The other option you're left with is to work with a ghostwriting company. However, the quality of these companies is all over the place, and not that many of them are good. A Few ways to identify these companies and whether they are worth working with or not is to check for their reviews on Trust Pilot, reviews.io, and Google reviews.
You might be interested in the platforms where you can find affordable ghostwriting services
The 5 best companies for ghostwriting services
If you need to hire a ghostwriter to write your book. Here are the top five ghostwriting companies that display professionalism, quality as well and outstanding ghostwriters for hire.
1. Hot ghostwriter
This is another example of a good ghostwriting company providing affordable and decent ghostwriting services that seek to make people satisfied with both the quality of their products and the pricing. Their services include ghostwriting, design, marketing, and promotion. They also have a pretty strong customer support team allowing for open communication which is a huge plus for authors seeking to have their book written. The design of the website is decent, but the content could be a little better and written better too. It's a bit lacking in terms of grammar and punctuation. Aside from some minor complaints, this website offers a pretty good service for your money. Their testimonials are also showing satisfaction from their customers.
2. Barnett Ghostwriting
Barnett ghostwriting is the crème da la crème of ghostwriting companies, its services are affordable. The writers display a great work ethic and are always on time according to reviews.
They've also worked with numerous bestselling authors, and their writers are the masters of their craft. Barnett Ghostwriting is a company that earned its reputation due to its consistent production of high-quality books that have done exceptionally well. They have multiple categories from which you can choose, such as book writing, book design, marketing and promotion and publishing. These are very useful things to have on your side as a ghostwriter and if their design is anything to go by, they also probably have very good web designers. Barnett ghostwriting also has various genres within book writing which is a huge plus. These guys are good at what they do and if you're a struggling author looking to hire a ghostwriter to write your book, you should seriously consider working with them.
3. Ghostwriting Professionals
Ghostwriting Professionals prides itself on having affordable ghostwriting services. However, the website design Is a bit lacking and too minimalistic. The written content is full of grammatical errors and punctuation. However, it's decent other than the above-mentioned flaws. It's a pretty good website overall. It offers an up to 40% discount for all their services. Making it relatively affordable although Barnett offers up to 50% and is also more consistent with their services. The quality displayed on the website seems to indicate a degree of professionalism and good work ethic. This is seen throughout the well-written content in most of the inner pages. However a bit less on the homepage.
Looking for a professional ghostwriter? Look no further, sign up for our ghostwriting services and avail up to 50% off!
Our ghostwriters are of the highest standard and are very professional and well versed with writing, so sign up and work with our elite team of ghostwriters!
4. Book Writing Founders
Book writing Founders is fairly good overall but lacks anything special about it. It seems like just any other ghost-writing website which makes it difficult for it to stand out.  It offers the usual suspects in terms of services offered, ghostwriting, marketing, and promotion as well as design. But nothing really stands out.  It's decent but lacking in terms of innovation, especially in terms of how it markets itself. I would still recommend it as a decent ghostwriting service if you're just starting out, however.
5. Ghostbookwriters

Ghostbookwriters is an alright service offering the usual services of a ghostwriting website. Their customer support team is responsive and willing to address concerns promptly. Their response timings need more work, especially during peak sessions. This can be a drawback for clients with tight deadlines. We also have another problem with the fact that some customers weren't very happy with the projects that they gave to their writers. However, they offer affordable services, and they also have clients who are more than satisfied with their books.
Conclusion                               
Finding a ghostwriter is difficult but our guide should make it a lot easier. It might not seem very intuitive at first, Use the recommendations in our blog as a good starting point.
Connect With Us
We Would Love To Serve You
Our team of professionals is at your service round the clock. Don't hesitate to approach us because we make things happen for our customers, and we would love to be your partner in making you a successful author. Fill in the details, and let our representatives contact you.